Positioning Yourself in a Challenging Job Market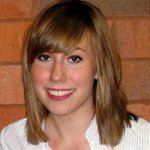 Protégés. This post's for you. What joy to re-connect with two of my former students at the PRSA MN seminar on Thurs. July 28 called "Positioning Yourself in a Challenging Job Market."
Say hello to Tara Cegla, PR Star and Intern at the Minnesota State Fair this summer. Tara is a former PRSSAer at UW-Eau Claire, and one of my favorite former students. So am I biased when I talk about her, YOU BET! Her Dream: to work at a top-flight agency such as Weber Shandwick or Padilla Speer Beardsley in Minneapolis. She is a HUGE TWINS fan, too! And judging by the terrific media kit she showed me–her latest project with the fair–she is likely to be scooped up immediately when her internship ends on Labor Day. 
I also happened to connect with another former fabulous student Amanda Wagner nee Huneke, who was in my Buyer Behavior class in the Fall 2005.  Amanda is a professional member of MN PRSA and was volunteering at the seminar. Amanda is an account executive at Weber Shandwick. Her clients: the U.S. Army and BAE Systems, a defense contractor. She is pursing an MBA at the University of St. Thomas. Watch out! She will go far!
So you want to know how to position yourself in a challenging job market? Lisa Simon, director of HR, Weber Shandwick/Minneapolis, @wsmplsjobs, did a superb job of moderating the panel. Her prep-work with a conf call prior definitely showed. Hear that proteges? Preparation is the key, for starters. Please note that I'm not attributing each panelist with their specific advice due to the length of the event (one hour, nine pages of notes) and the shortness of my post.
Panelists:
Gillian Gabriel, recruiter, gilliang@aol.com
Arik Hanson, principal of ACH Communications, arik.hanson@gmail.com
Anna Long, communications director for the MN Department of Veterans Affairs, @annalewickilong and  along@mdva.state.mn.us
Paul Maccabee, president of Maccabee Group, paulmaccabee@maccabeepr
 Current Hiring Trends: 
The best time to be looking for a PR job is RIGHT NOW! Market is on the upswing.
Hiring more media producers rather than the traditional PR person. Hybrid of Content Specialist, Tech Savvy, and People Person…all in one package. Knows enough tech to be dangerous and are the story-tellers. The ability to market and communicate in the digital space. Word Press, example.
Talent war coming in the pipeline for those with seven to eight years experience.
Some companies cannot find the talent to fill their positions.
Looking for someone who can translate social media into a business and marketing concept.
Get Your Resume to the Top of the Pile:
Classic marketing. Know your brand. What is your unique selling proposition?
Research, research, research the company you are applying for. Names and correct spelling counts. Don't call a Lou (Louise) a Mr.  
Authenticity. Know who you are and what you have to offer.  
Who you know,

and

who knows you, may be more important than what you know.  
Information interviews at coffees shops. Do research for the info interviews. It's not enough to be charming and adorable.  
Panelists varied on value of cover letters. Bottom line: research the culture of the company and person you are applying to in order to create targeted, personalized cover letters and whether or not they are valued. Cutesy stuff, like cupcakes, etc. may or may not work. Know your audience.  
Multimedia resumes can work if they are really really good, and if not, a bomb. Recruiters still value the traditional resume. Creative types might consider the multimedia resumes.  
Dress for the Profession:
Research the dress culture of the company you are applying for and then dress up a notch.  
Too casual dress, tattoos, tank tops, boobies hanging out, baseball caps, too tight pants, too short skirts, etc. NOT impressive! NOT going to get you the job!  
What message are you sending with how you are dressed? What profession are you applying for? PR Pro or Pimp or Lady of the Night (I've embellished here!)
Favorite Interview Question:
Why are you doing what you are doing right now? What is your philosophy? Convey passion! 
Situational questions: What would you do in this situation? Can you think on your feet? What is your thought process?  
Provide an actual client project proposal, and see how candidate would respond, what kind of campaign. 
Is it obvious that the candidate has prepared and thought about sample questions and key messages. What is the person's passion for that industry. 
 Phone Screens:
Audience member recommended standing up, have talking points handy, and dressing professionally, and smiling as if you were there in person.
Express enthusiasm through your voice, tone and attitude! Many times these interviews are being conducted by junior staffers that know nothing about PR. 
While phone screens can be horrible, help your interviewer along. Keep your energy high!
Phone interviews count in our business where the phone is used a lot.
Example: Nixon-Kennedy debates: Those who listened on the radio thought Nixon won. Those who watched on TV thought Kennedy won.
 To Thank or Not to Thank:
Ask the interviewer how they prefer to be followed up with. Everyone is different. 
Handwritten, short, sweet and to the point. 
Typewritten, three graphs, thoughtful, another opportunity to make an impression. 
Tweets, email, maybe depends on your audience. You can't possibly thank someone enough in 140 characters. 
Handwritten thank you notes sit on my desk for couple of months unopened. 
Know that even if you don't get hired for the job; you have created the start of a relationship. 
There is no science to this; everyone has a bias.
Congratulations for a superb seminar to our turbo-charged panelists and moderator, as well as MN PRSA President Brooke Worden, VP at Weber Shandwick; and meeting coordinators PRSA members Cydney Wuerffel, Fast Horse, and Krissy Schoenfelder, Spotlight Media.